The trend of Party wear dresses online in Pakistan changes every year. But fashion trend also depends on the girl's style preference and comfort. Some girls prefer traditional Pakistani party dresses and some girls like to wear royal-looking gowns and maxis on the festive occasion. Thus, the best Designer Dresses Store online in Pakistan has all varieties in their party wear dresses online store. This intensive range of collections can bring a difficulty to choose the trendiest one for your special event. But, do not be worried about what to wear on any specific occasion. We are here with the latest trend 2022 for party wear dresses online shopping in Pakistan. We do not only tell you the newest designs but also suggest to you the suitable event to wear them. If a wedding or a special occasion is coming ahead, you should continue reading this blog to find the best outfit for yourself. So, read ahead to find the trend and make up your mind to buy Pakistani party dresses online.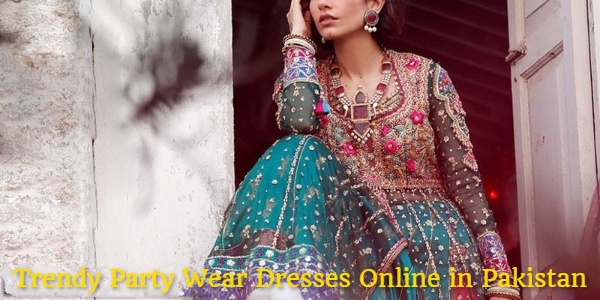 Trendy Party Wear dresses online in Pakistan:
1.      Traditional Gharara Dress:
When it comes to the traditional wedding event, most girls and young women prefer the gharara style dress. It is comprised of a short shirt of length up to thighs and a gharara trouser. Most women get confused between gharara and sharara. Let us clear it right away. Gharara and sharara both have two legs but gharara has several small pleats above the knee joint. These pleats give a beautiful flare. Moreover, the knee joint and the gharara flare are also embellished with beautiful embroidery, handwork, tilla work, or zari work. According to the latest trend, the shirt has beautiful handwork on the neck and daman. Some girls also prefer wearing small peplum with gharara to look stylish and traditional.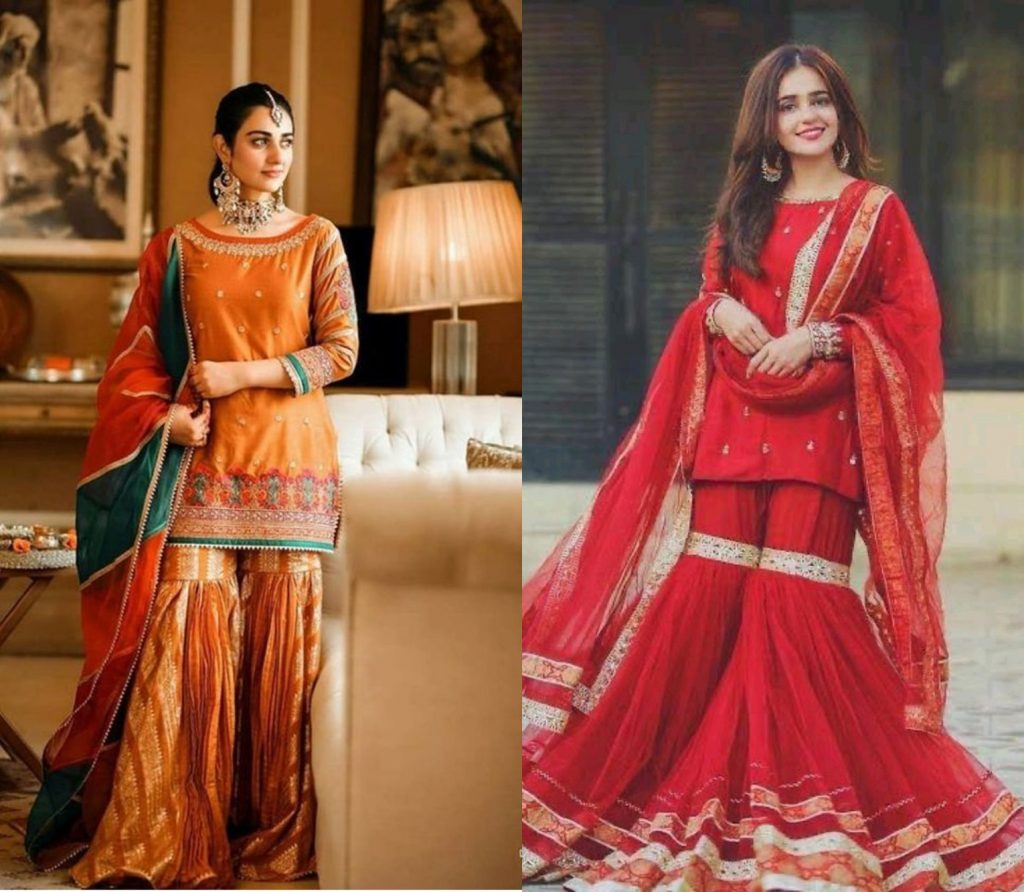 Suitable Occasions: It is suitable to wear on traditional wedding occasions, such as mayon, mehndi, nikkah, etc. For the Nikkah event, you can go with white gharara with golden embroidery. Mayon gharara should have Gota work or mirror work on yellow fabric. When it comes to mehndi, we recommend you make a vibrant contrast with dupatta and gharara.
2.      Royal Saree:
Saree is always a graceful pick for any wedding occasion. Women of every age love styling saree to look glamorous and beautiful at any wedding event. According to the latest trend, a shaded saree with a heavy blouse is found at the top of the trend. The blouse sleeves and neck have full zari work or thread embroidery that adds a beautiful finish to the simplest saree look. Moreover, heavy sequence work on the entire party wear saree is also loved by women. They are the perfect pick for a night event. If you like simple and elegant designs, you can also go with a banarsi saree, silk saree, net saree, etc. Let us tell you the forthcoming trend in saree style. You will find the velvet blouse with a beautiful drape saree in the upcoming wedding season.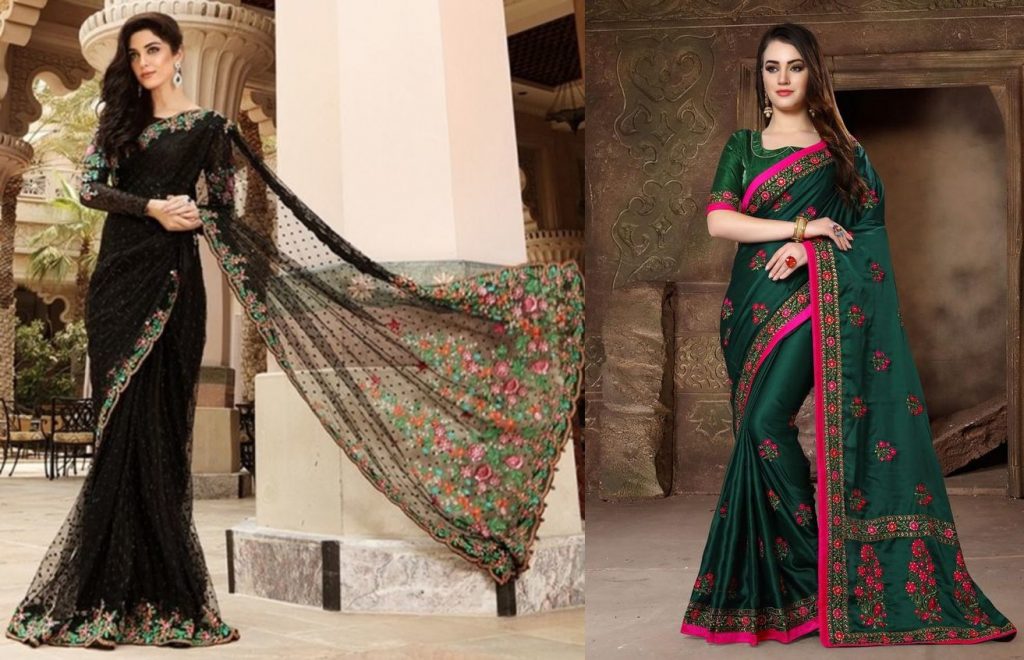 Suitable Occasion: You can choose any of your favorite styles in saree to wear in walima, Barat, dinner, or any decent family function.
Wedding season mostly falls on winter days, and velvet party dresses are the beautiful and comfortable pick for the season and the event. Nowadays, it is in top trend for its exquisite style variety. In trendy styles, you will find beautiful velvet frocks, classic velvet suits, and pretty velvet shawls. The available colors in these dresses include royal blue, bottle green, purple, and maroon. They have delicate golden embroidery with sequence and pearl embellishments. These make velvet dresses look perfect for wedding occasions. Even nowadays, bridal dresses are also available in this fabric for their shiny and luxurious finish.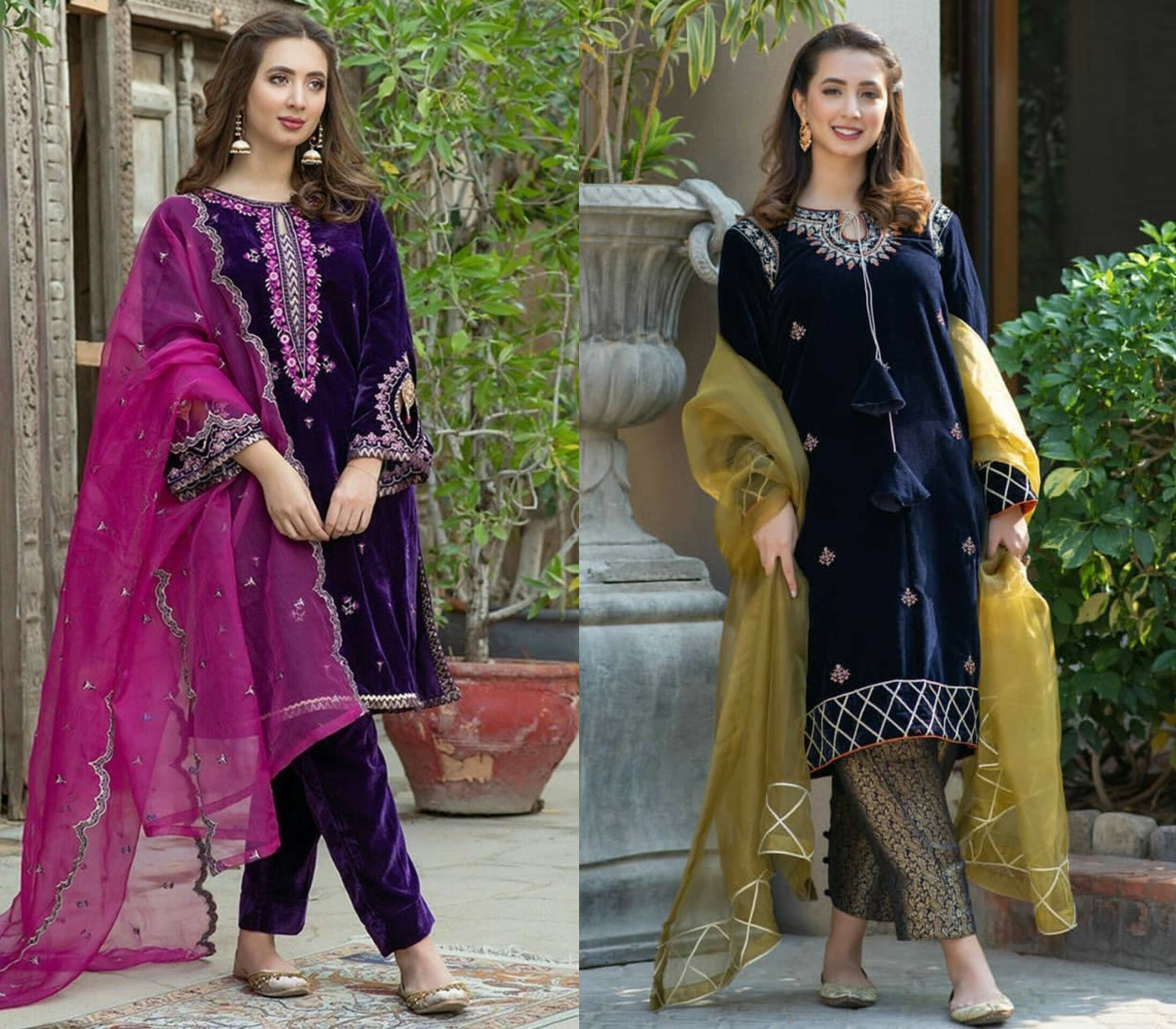 Suitable Occasion: You can choose velvet party dresses online shopping in Pakistan for wearing on any wedding occasion. It is perfect to be worn at winter weddings or outdoor wedding functions.
4.      Maxi Dress:
If you like super flaring dresses, you can go with a maxi party dress available at a designer dresses store online in Pakistan. They look like floor-length frocks with a heavy flare for giving the princess look. They infuse the eastern touch with traditional embroidery. When you search for trendy designs in maxis, you will find velvet maxi, net maxi, princess maxi, silk maxi, and bridal maxi for party wear dresses online shopping in Pakistan. They have beautiful works of pearl, sequence, tilla, zari, and beautiful stones on the body and flare. These intricate embroidery designs make maxi luxurious and royal looking. Whether you are a wedding guest or a bride, you can go with these maxis to shine bright at your special event.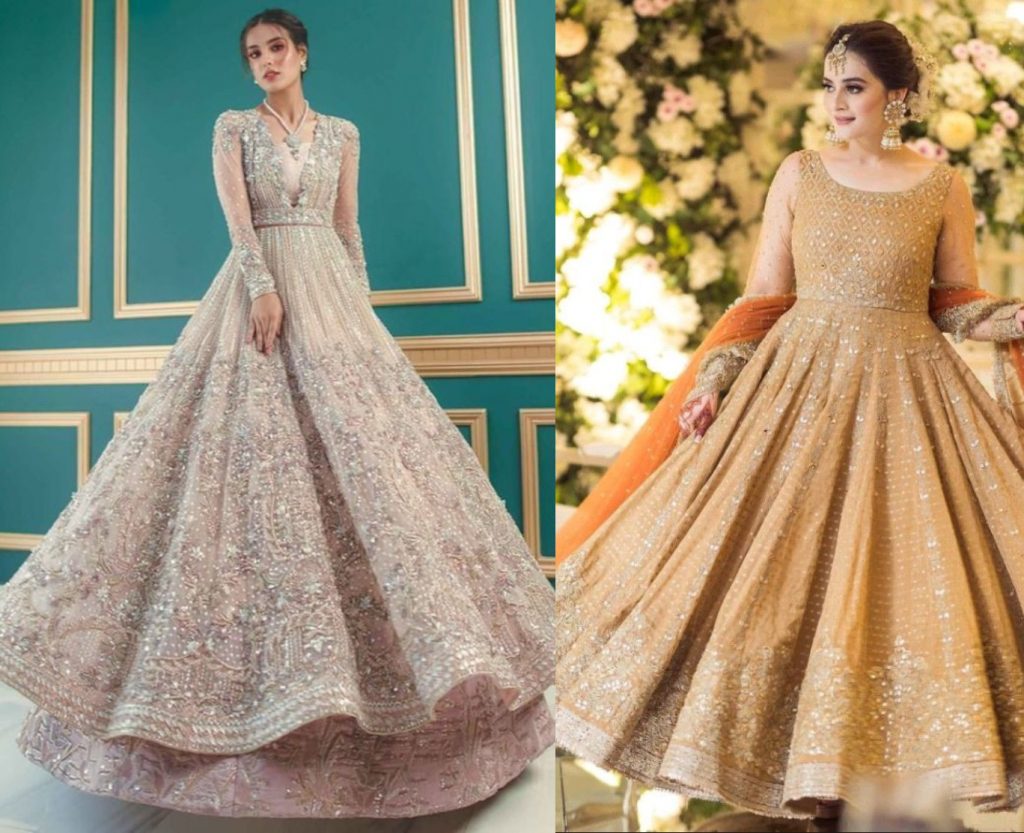 Suitable Occasions: Heavily embellished maxi is perfect for valima bride, and graceful flare maxi is perfect for young women.
5.      Fancy Gown dress:
Long gowns have an open shirt style. It is comprised of an open double shirt and a thigh-length shirt. The gown is fully embellished with beautiful handwork or machine embroidery. The stones and pearl embellishments make these gowns royal looking. They look different from traditional party wear dresses online in Pakistan, but they are modest and classy in their style. Nowadays, young women and girls love wearing these fancy gown dress or open shirts to look stylish and elegant. The best designer dresses store online in Pakistan provides many options in this style, such as net gowns, chiffon gowns, organza gowns, etc. You can also customize the length of the upper open shirt as per your style preference.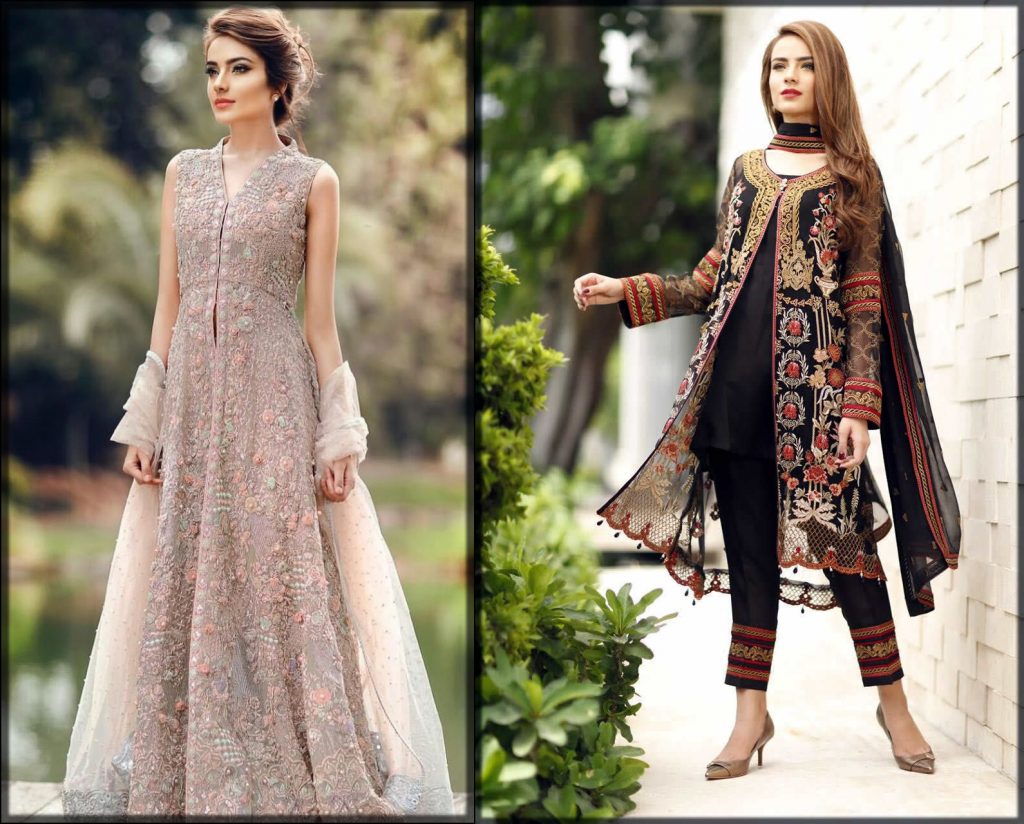 Suitable Occasion: Long gown or open double shirt dress looks beautiful on engagements, valima events, or even family functions.
6.      Royal Black Dress:
Black dress is the evergreen trend in party wear dresses online in Pakistan. Nothing looks more beautiful than the complete black party dress. Whether it is a saree, gown, maxi, or even frock, you should consider royal looking black dress for any festival. Nowadays, the heavy sequence on the black dress looks exceptionally sparkling and beautiful. It is a perfect pick to wear at any event at the night. You can pair your beautiful black dress with any colored heavy jewelry to look regal and luxurious. Even if it is a formal event or a dinner, you can also wear an elegant black dress with minimal jewelry to look stunning.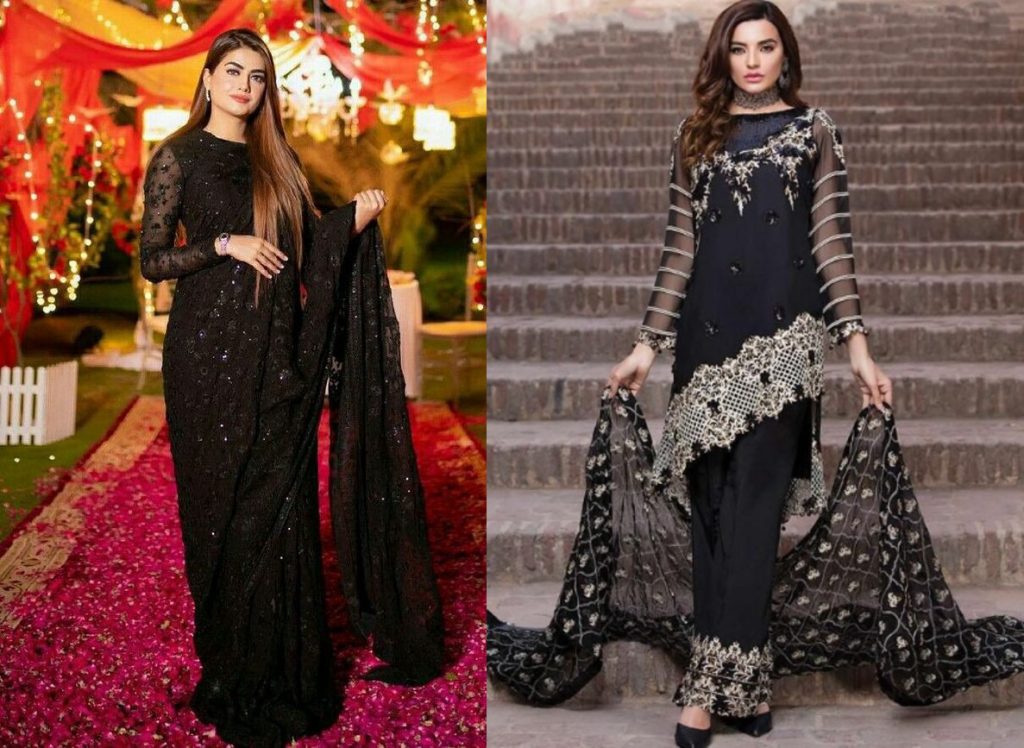 Suitable Occasion: They are all-rounder, which you can wear on any occasion with complementary jewelry.
7.      Long fancy shirt with a trouser:
The fashion of long fancy shirts has also come back this year. These days women like wearing the heavily embellish long fancy shirt with Capri trousers. The shirt has full embroidery and handwork on the front that looks exceptionally stunning. Even young women or old women like this dressing style for its regal and modest look. They mostly have simple dupattas and simple trousers to balance out the heavy handwork. No matter which festive occasion it is, it looks beautiful and elegant on women. You can pair it with high heels, a complete jewelry set, and a clutch. Nowadays, chiffon, organza, and net are the trendy fabrics for this trendy style. You can also find these party wear dresses online in Pakistan. The party wear dresses online price in Pakistan varies from design to design. The heavily embroidered one will cost you more than the simpler one.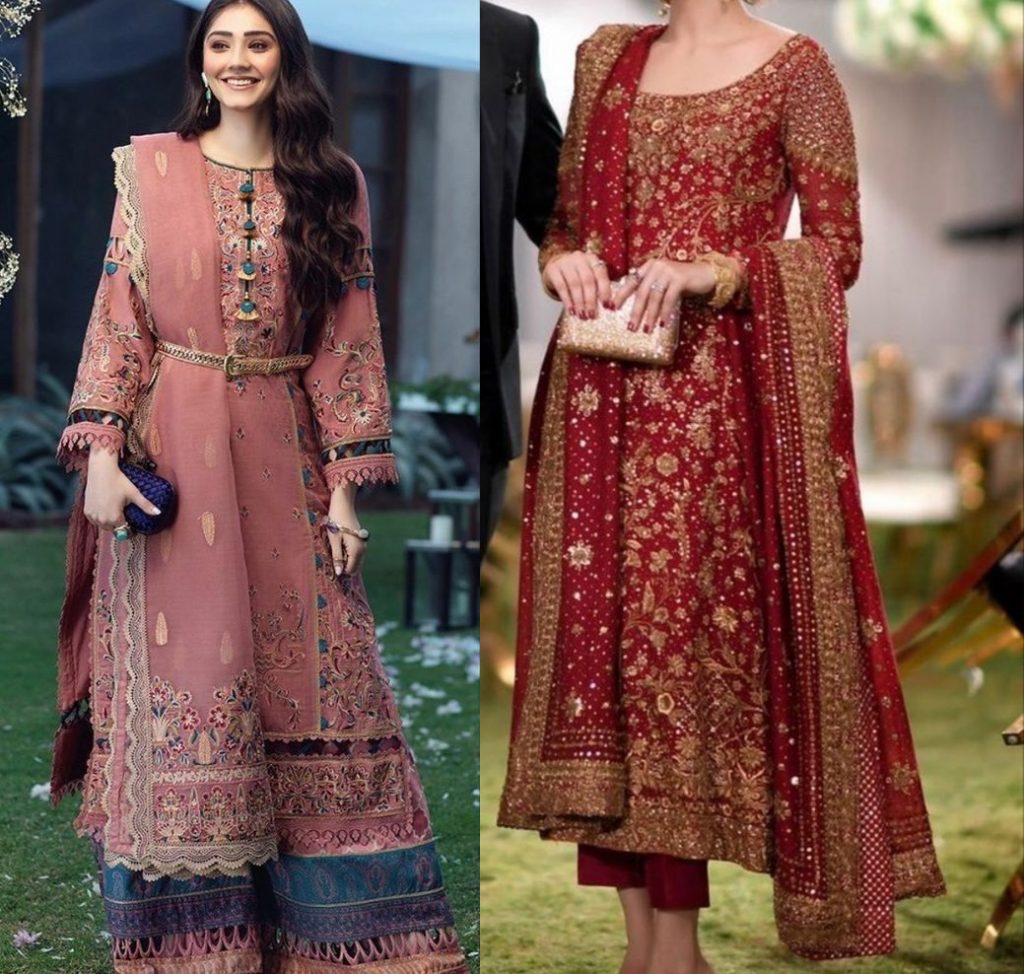 Suitable Occasion: They are perfect to wear to any wedding event or family function in Pakistan.
8.      Ethnic Sharara Dress:
Once a time ago, sharara was the trendiest bridal wear. Now, it has come back in a more versatile style. They have two legs with a long flare that looks fabulous on a festive occasion. The colors, embroidery work, fancy fabrics, and style depending on your choice. But this design is again in trend for being the graceful and traditional one. Women who love wearing traditional wedding clothes consider sharara the best pick for a wedding. Even if you are a mayon bride or nikkah bride, you can buy Pakistani party dresses online in this style. You can pair it up with a traditional artificial jewelry set that matches the beauty of this dress.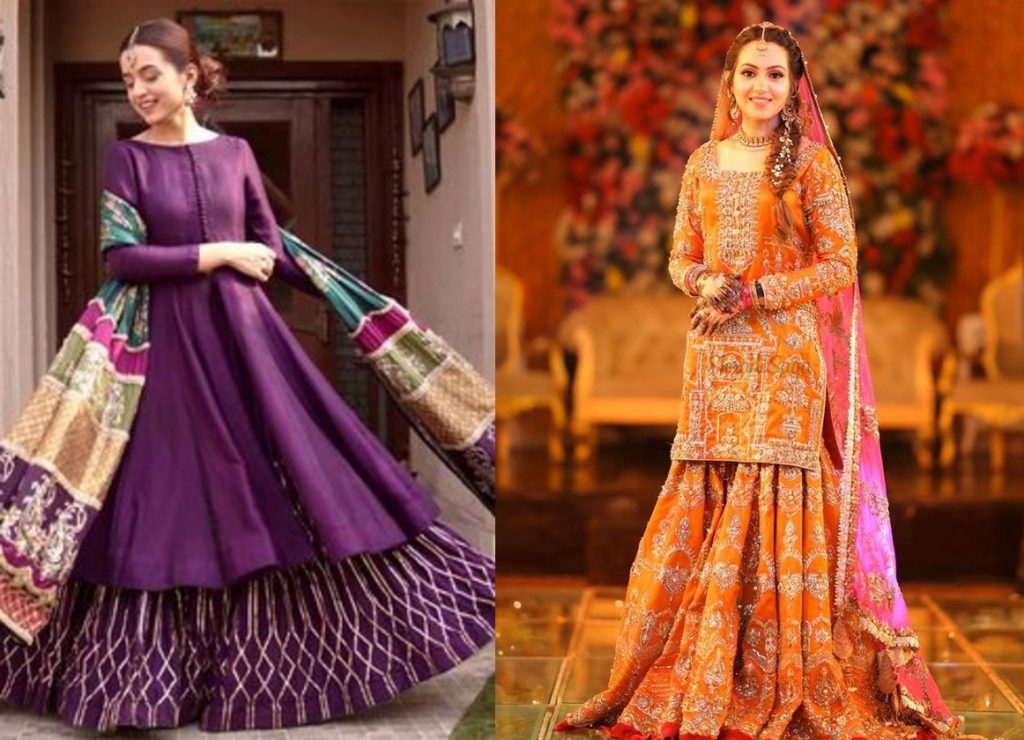 Suitable Occasion: You can wear them at any traditional wedding events, such as nikkah, Mayon, qawwali nights, dholki, Barat, etc. Even wedding guests can pick this style to look strikingly beautiful.
If you like simple but fancy party wear dresses online in Pakistan, you can go with embroidered organza suits. They are 3-piece suits having a heavily embroidered shirt with a decent dupatta and trousers. Some fancy-looking designs also contain some pearl and sequence embellishments to enhance the overall grace of the party dress. Nowadays, pastel colors are trending in fancy dresses which you can easily find in the organza party dresses collection. The size of the shirts is mostly knee length so, it also looks formal and elegant. The best thing about this style is its versatility. You can also wear them on a family get-together, Eid, Dinner, Lunch, etc. You will also find thread embroidered dresses in the organza collection for party wear dresses online shopping in Pakistan.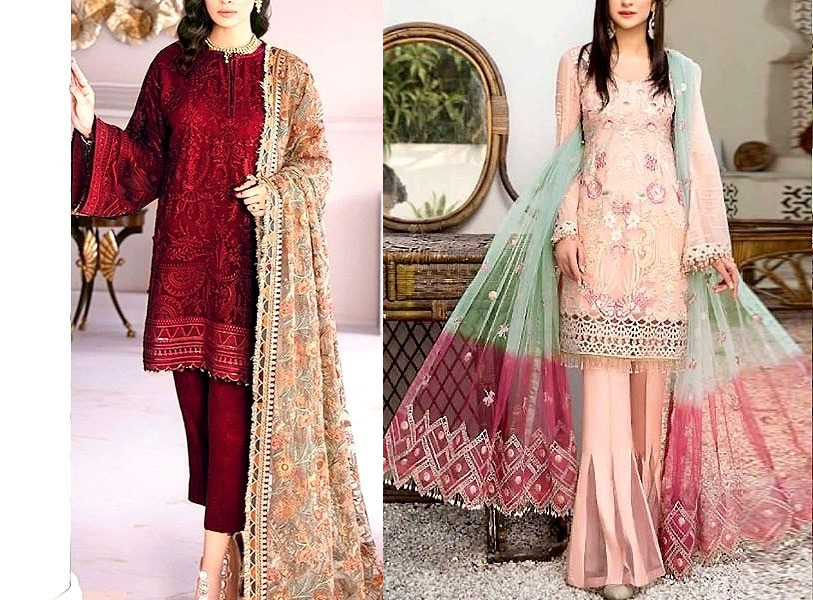 10. Peplum Dresses:
Peplum seems like a short frock with a skirt-like frill. It can be paired with a trouser, palazzo trousers, sharara, or gharara. It looks exotic and elegant at a time. If you want to buy Pakistani party dresses online in peplum style, you can pick this style with beautiful embroidery and stone embellishment. It looks exceptionally stunning on heighted girls. Moreover, you can also pair it with lehnga to look wedding ready. Even, it is also available in a tail frock style that looks stylish and modish on young girls.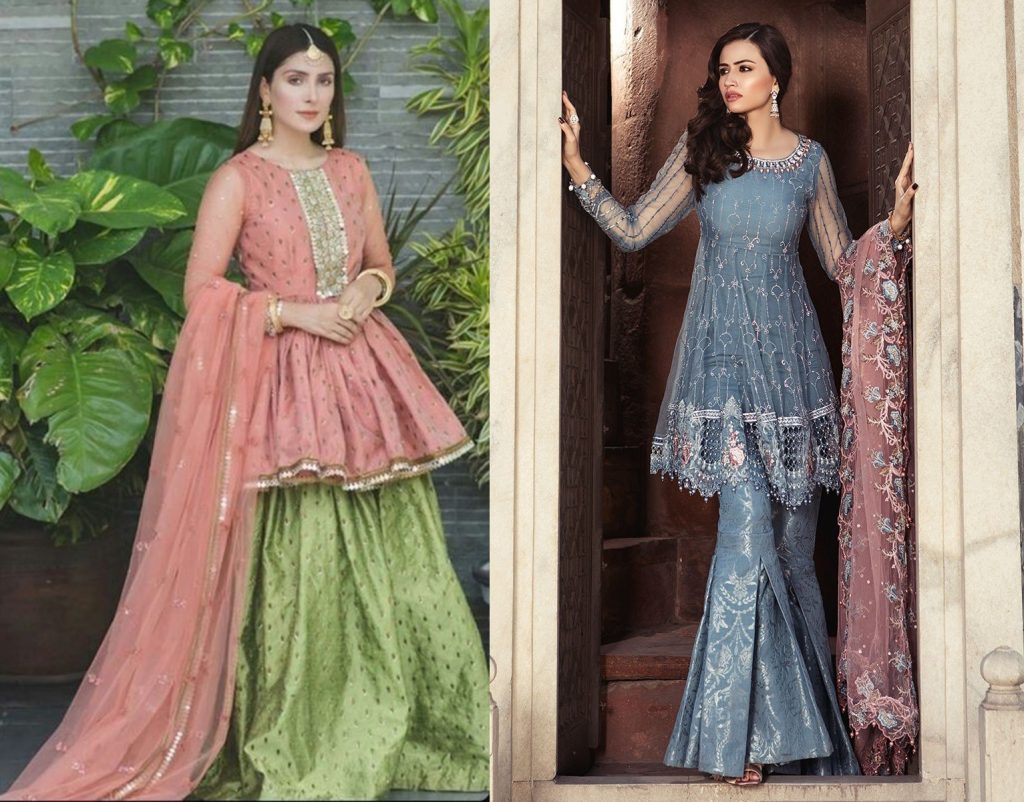 Suitable Occasion: Wedding guests on Barat, engagement, or valima can wear it to look exotic and stunning. Even if you choose the colors and contrast according to a specific event, you can wear them on mehndi and mayon too.
11. Angrakha Frocks:
Girls who love wearing long frocks will like to have an angrakha frock in their party dress collection. They are traditional and stylish to be worn on any festive occasion. If you are one of those who have a craze for a frock, you should consider buying the angrakha style frock in your favorite color. Mehndi brides also consider wearing this style on their mehndi or mayon to look traditionally embellished and beautiful. They also have Kali Panels that make flare super flaring and gorgeous. The thick embroidered patches and motifs add more beauty to the dress. If you like to wear them on mehndi, you can pick this style in gota work embroidery.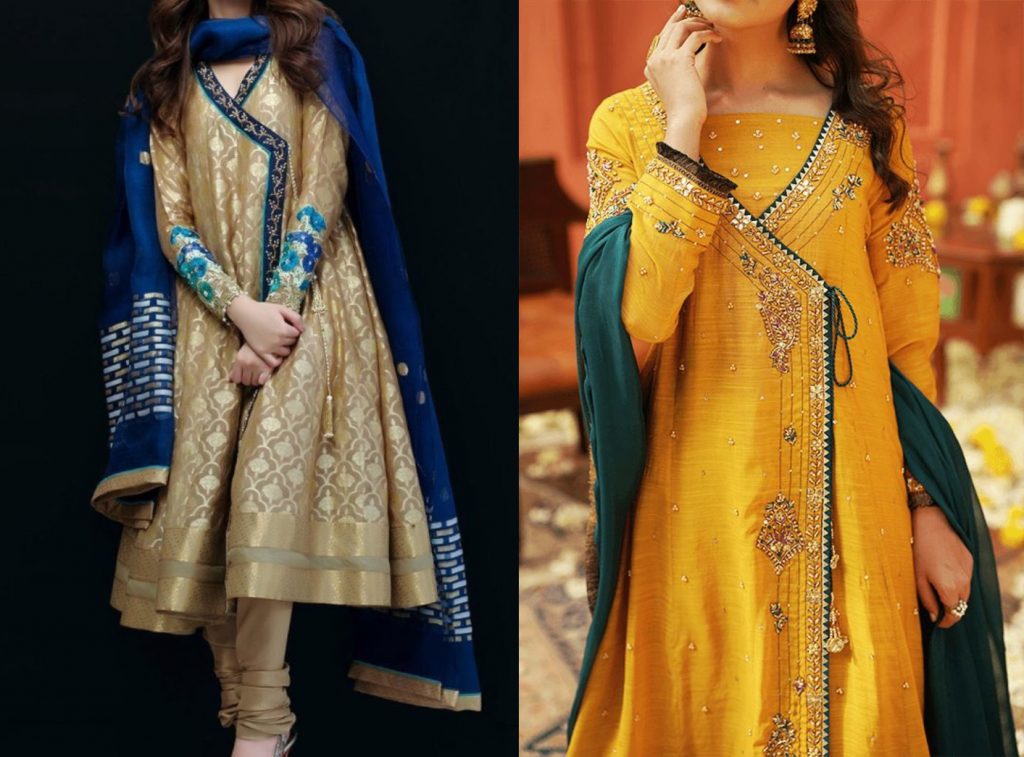 Suitable Occasion: It is suitable to wear on any casual to a festive occasion. You can style it with traditional jewelry, jhumky, or Balian.
12. Classic Pakistani Party Dress:
The old-aged women prefer wearing classic Pakistani party dresses, i.e., shalwar kameez or trouser-shirt. They have beautiful embroidery on their shirt and dupatta. The heavily embroidered neckline and daman look regal and sophisticated. The dupatta also has embroidery on the borders that make it look refined and beautiful. You can find these dresses in a variety of colors, designs, and embroidery through party wear dresses online shopping in Pakistan. If you want to buy Pakistani party dresses online, you should consider the classic shalwar kameez for the traditional Pakistani look.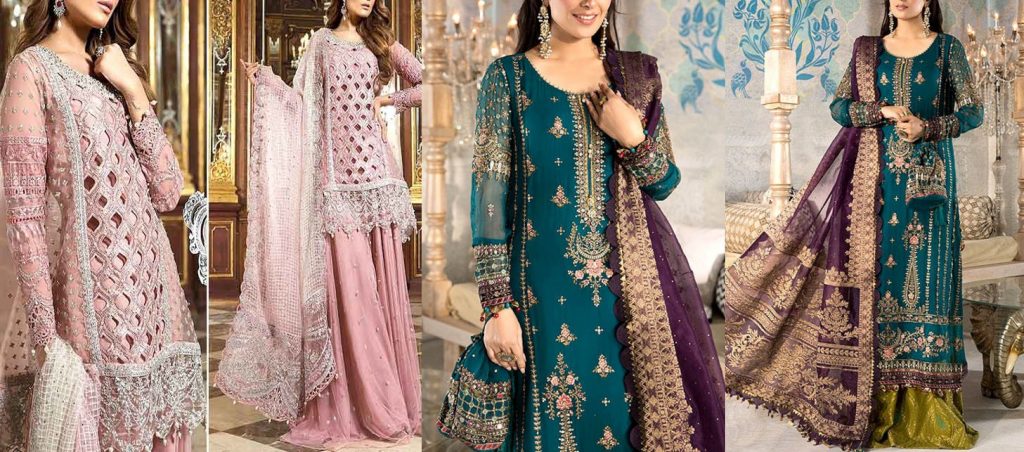 Suitable Occasion: Elder women can wear this style of fancy party dress on any festive occasion, such as Eid, wedding, etc.
So, what are you waiting for? If a festive occasion is coming, simply buy any of your favorite styles from our trendiest designs. The best designer dresses store online in Pakistan makes it feasible to buy party wear dresses in quality fabric and trendy designs. The quality of our fabrics is premium, and embroidery intricacy makes our dresses regal and luxurious. Therefore, we are the ultimate destination to get beautiful traditional, fancy, party wear, formal, or wedding dresses at the best prices online in Pakistan. So, Explore our collection as per your style preference and pick your favorite now.